I just wanted to show you my most recent scrapbook pages.

First is a layout I created for a Speed Scrap at GoDigitalScrapbooking.com.
Chanin was the host and her directions were:

Pick out 1-3 Christmas pics. If you use only 1 photo, do some type of treatment to it or color it in some way or put a stroke around it or all of the above! If you use more than one, do whatever you feel needs to be done to them!

Pick out 2 papers, 1 plain and 1 patterned. Use one as the background and one some other way on your page - as a mat or border or whatever you desire!!

Use ribbon and/or stitching somewhere on your page.

Place your pics on your page in a cluster (aka overlapping) if you are using more than one. If using only one pic place it on your page angled.

Use something to clip your pic(s) to the page, such as a paper clip, staple, or pin.

Somewhere on your page do a cluster of elements! Wherever you want!

Put a title, word art, or journaling somewhere on the page and then add whatever elements or final touches you think your page needs to complete it!
Here's my layout. Bill, the hubbie, helped me out with it, so the journaling is his humor.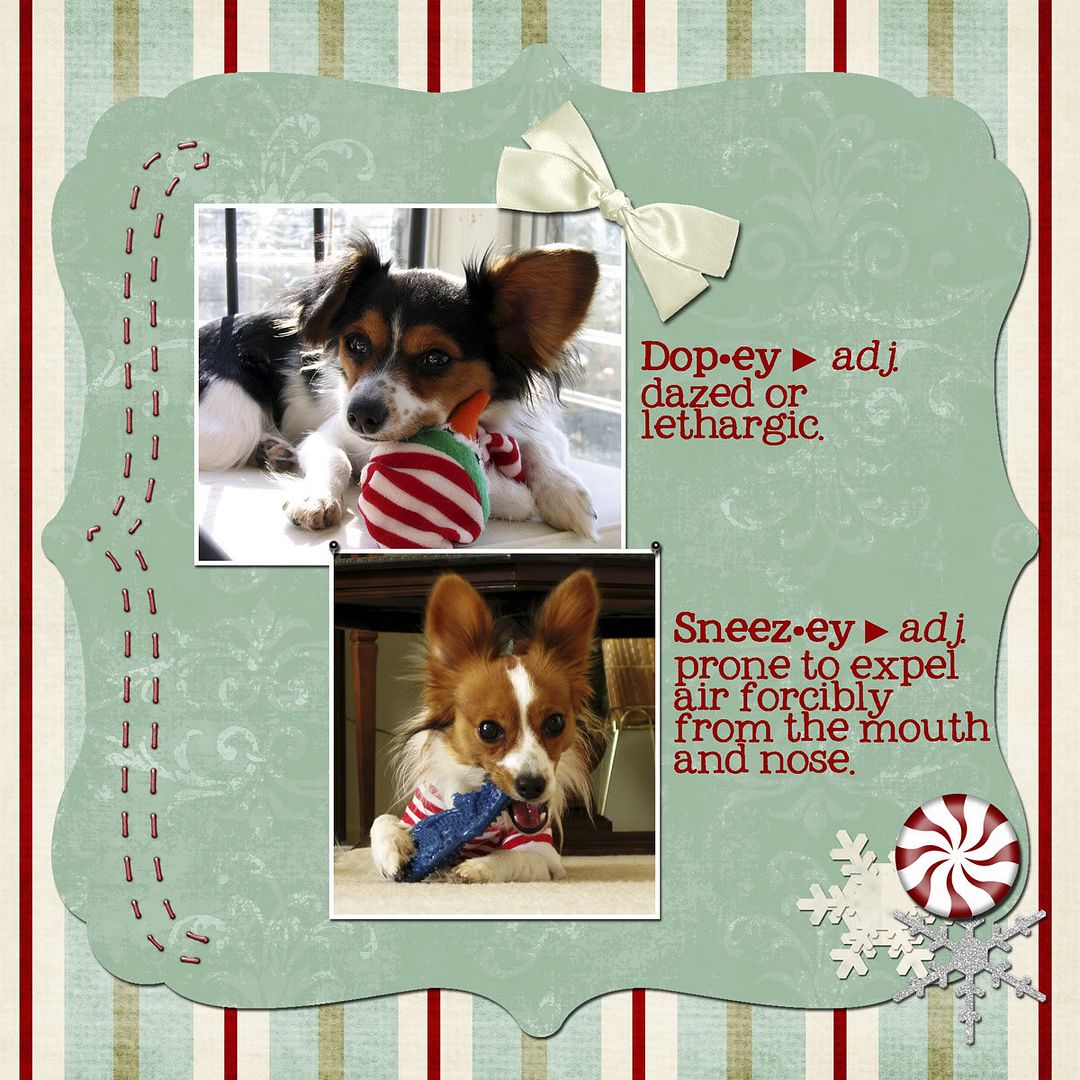 CREDITS:

Mat shape by Lyndsay Riches from "Whisper" kit; Pin from Designs by Kristi "Easter Freebie";

Font--My Own Topher by Kevinandamanda.com; everything else

"Winter Shabby" kit by Snowflake Beach Designs
The second one is of my hubbie and his grandfather. This picture was taken at Pop-Pop's 75th birthday party. It was really nice because the whole family got together to celebrate.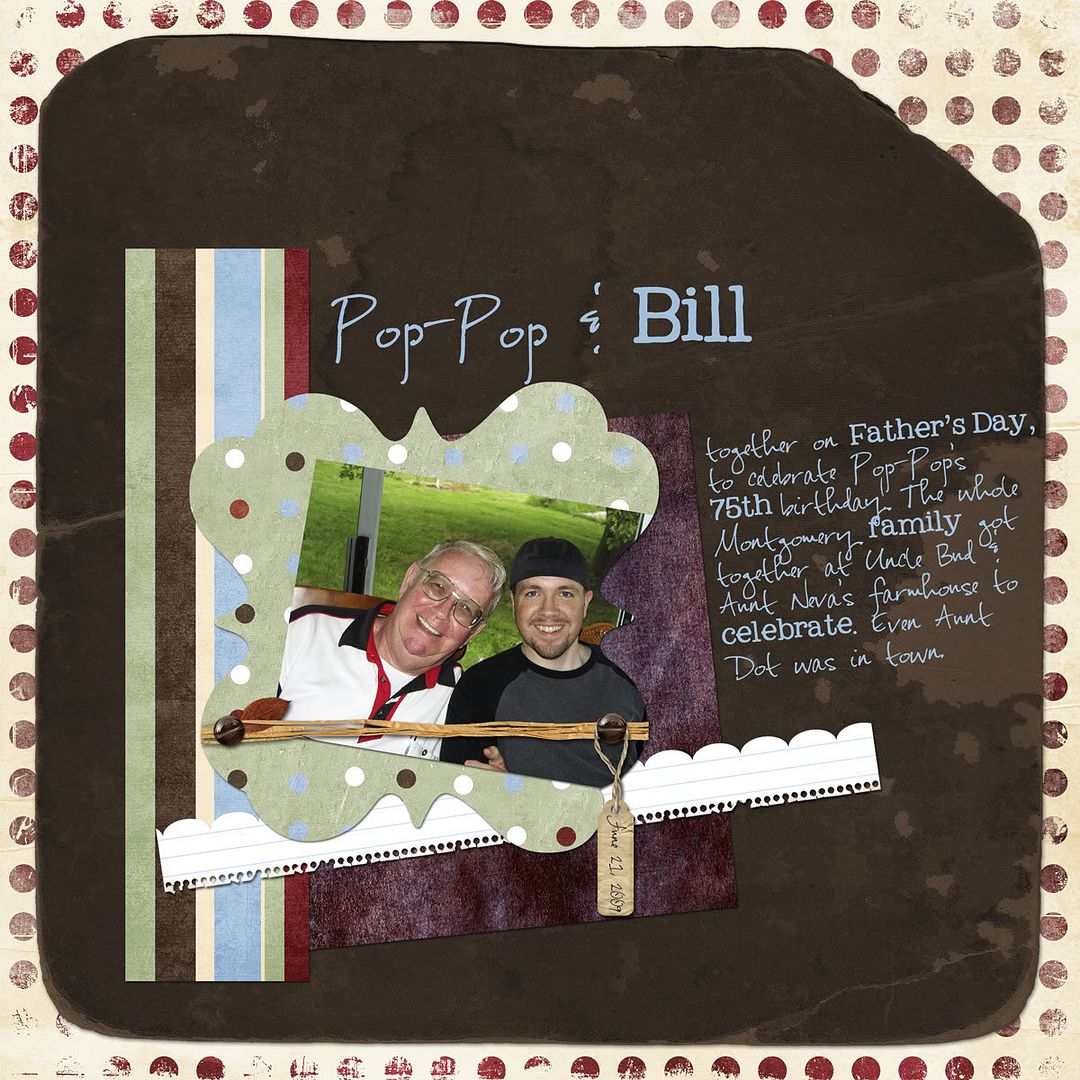 CREDITS: Scraplifted from "My Hands" by starxlr8 (simple scrapper) at myscrapbookart.com;
"My Favorite Guy" June Blog Train: Bkgd papers- A+ Designs, square paper- Armina Designs, rectangular stripe paper- Creative.chaos, notebook paper border-Little Miss Shazbutt, mat paper-Queen Pamedalah, photo wrap- Ilona Havenaar, & tag- Ingeborg (ikscrap);
mat shape- Amy Sumrall from "Fun Wow" Kit;
fonts: My Own Topher & Pea Joraanstad by kevinandamanda.com
This was a scraplift from the simple scrapper.
The last one is for a
recipe challenge
at
Scrap That Idea
.
Here is the recipe:
1 paper
1 photo
1 frame
2 string and/or ribbon
Stitching
1 greenery


2 flowers
2 additional elements of your choice

Frame your photo and place it in one corner on the page. Layer the greenery, flowers and string/ribbon. Garnish with stitching. Use only 1/4 of the page to place all items.
And this is what I came up with: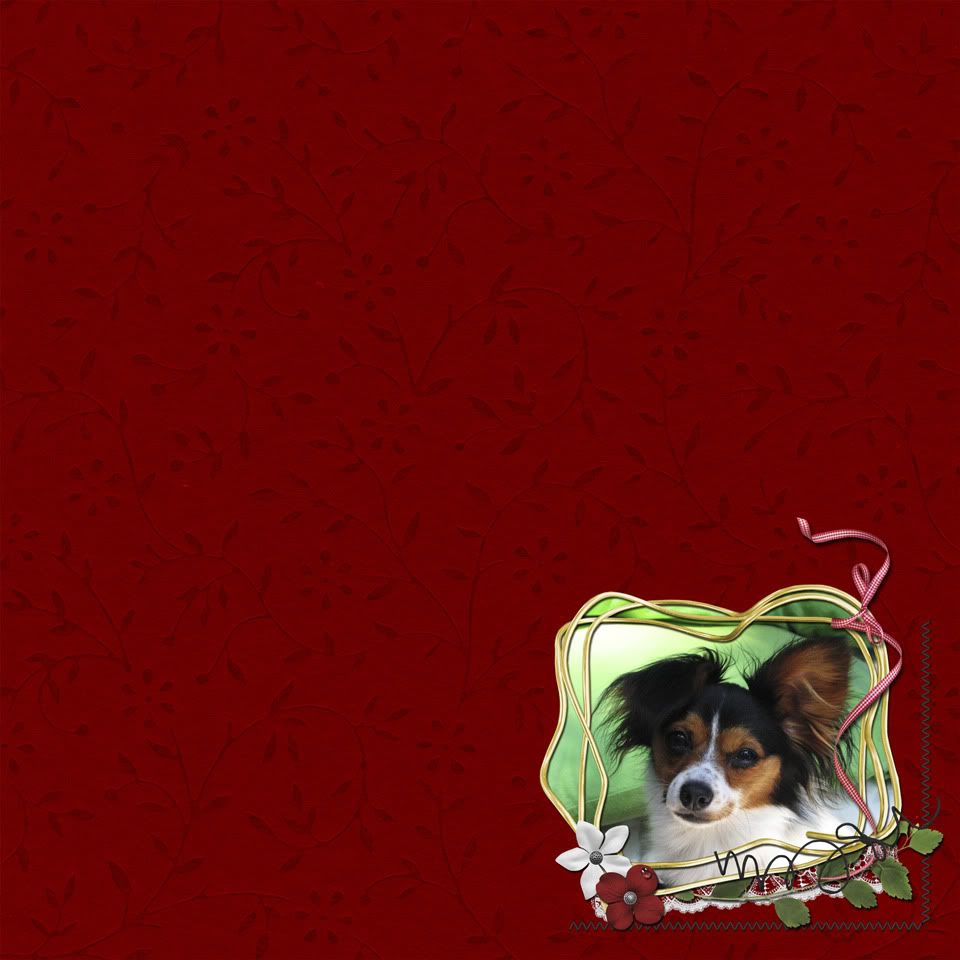 CREDITS: ribbon bow, string bow, leaves, lace, 2 flowers, ladybug, and red background paper -- Sweet Blossom Designs "Ladybug" kit; string frame -- Sweet Blossom Designs "Bee Happy" kit; stitching -- Digi-Designs by Nicole "Basic Beauty Add-on"