How do you organize your files? Do you organize?!

I know I said that I would give you some more tutorials from my layout the other day, but this one is relevant to what I am working with right now and wanted to share this. This is about what I use to organize my photos and digital scrapbooking files. I am not sure if people bother to organize their files and folders very much, but I do. I do it mainly so that I can find files later and always try to think ahead at what I might use to search for something later.

The best program I have found, and have been using it for years now, is called ReNamer by den4b. It is fantastic because it is so simple. At first I used it to organize my photos, and now have found it useful for digital scrapbooking.



Photos:


I keep all of the photos from the same date or event in a folder together. I name each of them according to the date the picture is taken and then I number them sequentially in the order they were taken. If the pictures were taken at a specific location (e.g., the Grand Canyon) or event (e.g., Christmas), I will add that after the date and serial number. If I have time, I will add who is in the picture at the end. Here's an example of a typical file name:

20080803_13_Brooklyn_MarkErin.jpg

. I date my pictures with the year first, then the month, and then the day. I have found by trial and error that that is the best way to organize photos in some kind of orderly fashion. As you can see in this example, if I ever use the search to find pictures of my trip to Brooklyn or of Mark, both searches will yield this photograph. Well the focus is supposed to be on digi-scrapping files, so let us move on to that.

Digi-scrapping files:
Now I am new to digi-scrapping so this is still trial and error, but I will tell you about the system I am using right now to organize any kits I purchase or freebies I find online. First I group all items for one kit into one folder and name it

{Kit_DesignersInitials_KitName}

. I start with "Kit" so that all of the kits will group together. Then I like to have the work of the same designer side by side because I have a habit of remembering the name of the designer instead of kit names. So if I am looking for a kit, it is more likely that I will find it under the designers name.

Once inside the folder, I try to make sure everything in the folder has the same information as the folder. So I rename everything to start with

{DesignerInitials_KitName}

. I do this so that if I ever do a search for a tag, I will know exactly what kit the tag I am using came from just by the file name. Then I can find the designer's TOU (terms of use) in no time. It is easy to give appropriate credit when you know the name immediately. I also try to make sure common things like buttons, ribbons, pins, staples, tags, and paper are labeled in the file name so that I can do a quick search and find whatever I am looking for.

So what I wanted to do is tell you how to do all of this file renaming efficiently.



Tutorial

:


First a disclaimer. I am sure that this program offers more than I know. I am just showing you some of the things I know to do with it.

Okay, so I am going to organize a folder that I downloaded from the SYTYCD contest at digiscrapaddicts.com (no longer available).

Now the first thing I do is find the TOU and the kit preview and put a underscore ("_") in front of these file names. This is my own thing, my own pet peev. I want to be able to find these two files anytime, and by doing this, these two files will be displayed as the first two files in the folder.

Now we can start using ReNamer.



Open ReNamer

. Start by

selecting all of the files

that need to be renamed. To quickly do this use your mouse. Select the first file, hold down shift, scroll down, and then select the last file. Now

drag all of those files into the bottom window

of ReNamer that says "Drag your files here."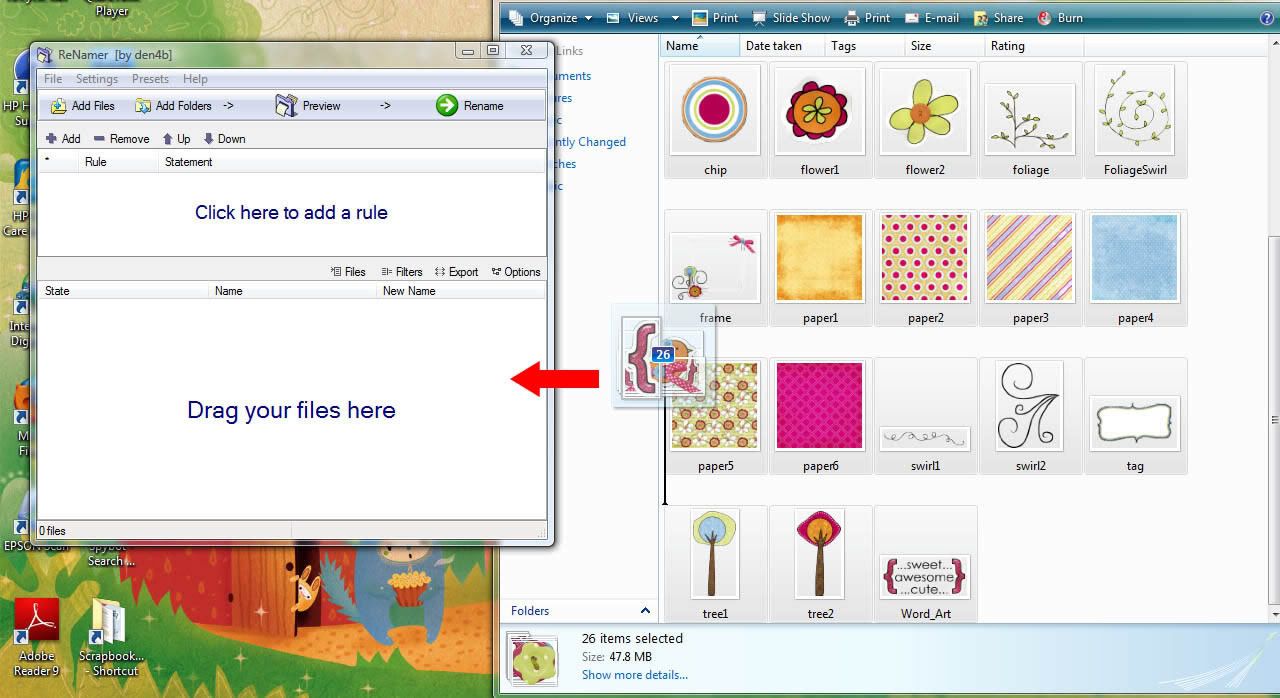 Now your files are loaded in ReNamer.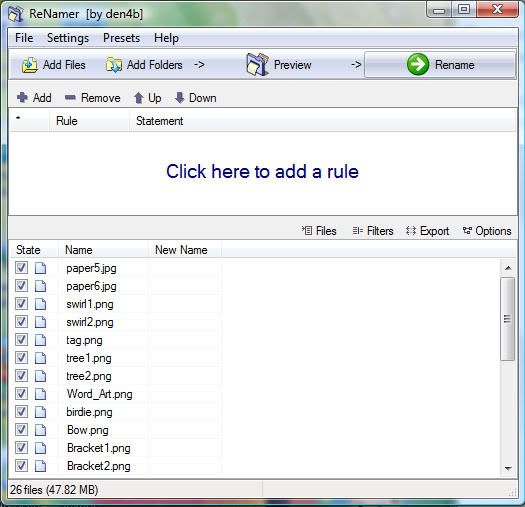 Next,

click on "Add"

to add a rule to rename the files.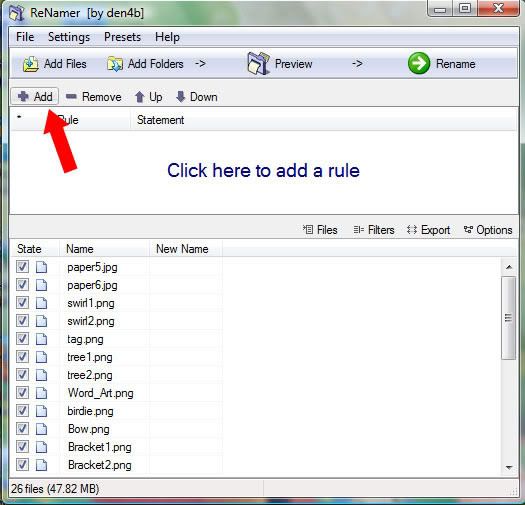 Below is the screen that opens. We are going to create a rule using

"Insert"

on the left.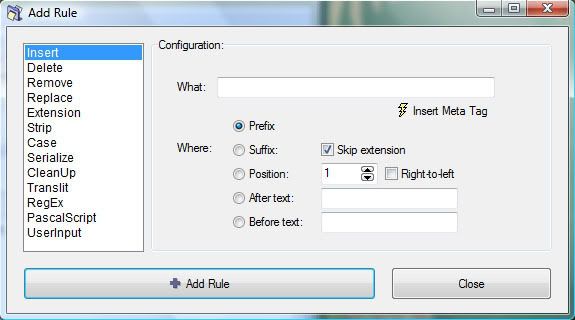 Next,

place your cursor in the field next to "What:"

. We want to add the name of the designer and the kit name. I want to put this information in the front of the file name, so I

select "Prefix"

and make sure that

"Skip Extension" is checked

.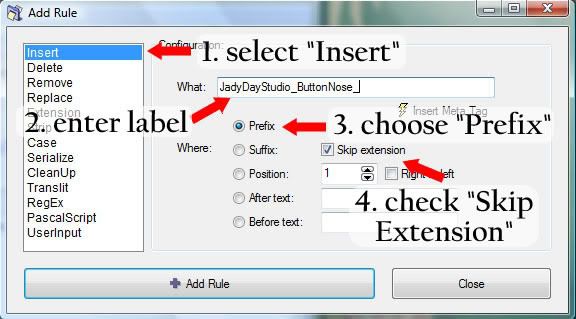 Once you have entered this information, you can click

"Add Rule."

This will close the window and return you to the original screen. In the screen you can now see a preview of what the file name will be with this rule you just created.

If you are happy with the new file name then you can go ahead with the renaming by

clicking "Rename."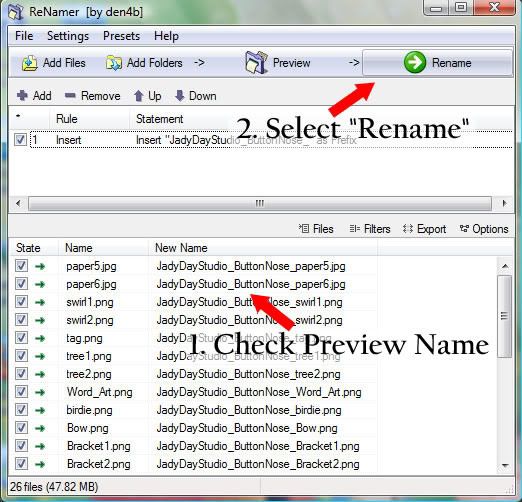 It will tell you if your renaming is successful.

Click OK

.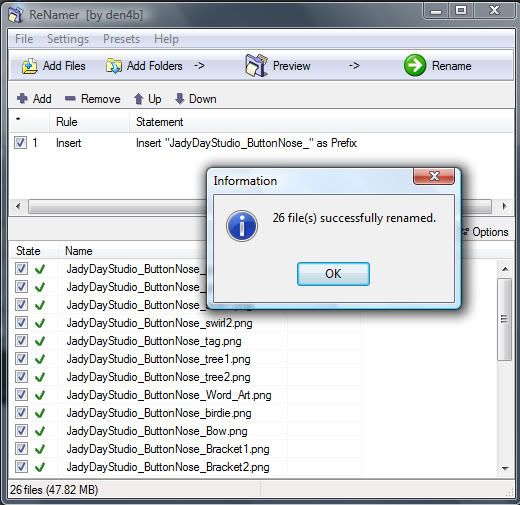 Now that these files are renamed you can remove them. Just

select them

(if you click in the window you can use "Ctrl+A" to select all) and

hit the "delete" key

. In the picture below I have selected all of the files, just before deleting.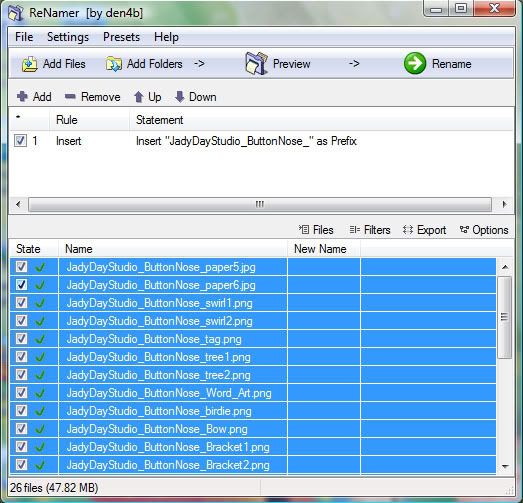 Now I want to change some other files. The designer has labeled the papers as "paper," which might work for you. But I like to use the search and when I search for paper I want to find notebook paper and things like that, not 1000s of papers, so I change "paper" to "ppr." It is just my way of creating it easy to search. So I

drag

the papers

into ReNamer

.

Then we need to turn off the rule we created above. Just

check to turn it off

. This is a cool technique because you can create several rules and work with many many files without having to rewrite rules each time you need to do something different.


Next

click "Add."



This time we want to add another rule, using the Replace rule. So

select "Replace."

Then where it says

"Find:"

I will enter paper, and where it says

"Replace:"

I will enter ppr. Then

click "Add Rule."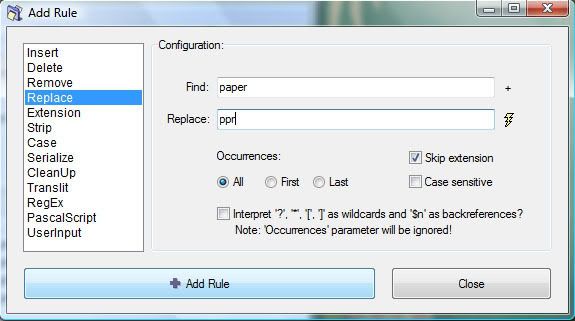 This will preview the new name.

Select "Rename."

And then click "OK".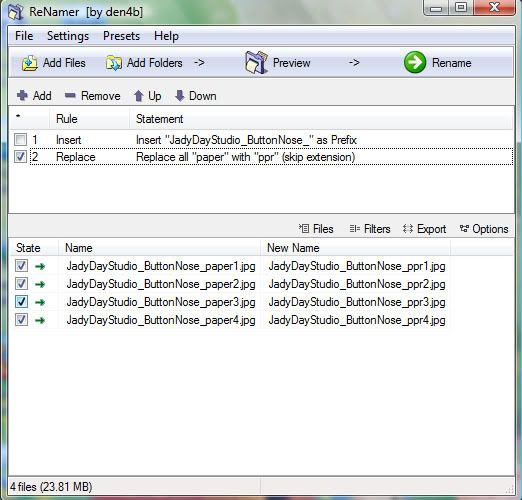 There, we are done renaming the files.

There is a lot more I can share with you about ReNamer, but I will save that for another night.

Here is where you can find ReNamer: http://www.den4b.com/downloads.php?project=ReNamer.