I played with
Dylabel Designs
' newest kit this week, called
Ode to a Starry Night
. I decided it is about time to start scrapping some of my pictures from Arizona before I forget what we did. I mean these pictures are over three years old now! It's hard to believe it has been that long since we moved to Phoenix. Our time there was such a whirlwind---we only lived there 17 months. Fortunately while there we did take advantage of the location and got out and experienced some really cool stuff you would never see on the east coast.


I did a two page spread of our trip to Tonto National Monument via the Apache Trail. We had been in Phoenix only a few weeks when we took this trip so it was our first real exposure to desert life, the rocks, the lizards and wildlife, and the cacti. Tonto is in the Sonoran Desert and apart of Tonto National Forest.


The CT created some freebies including word art, alpha, frames, and quickpages. Check them out at Belinda's blog:
Dylabel Designs
.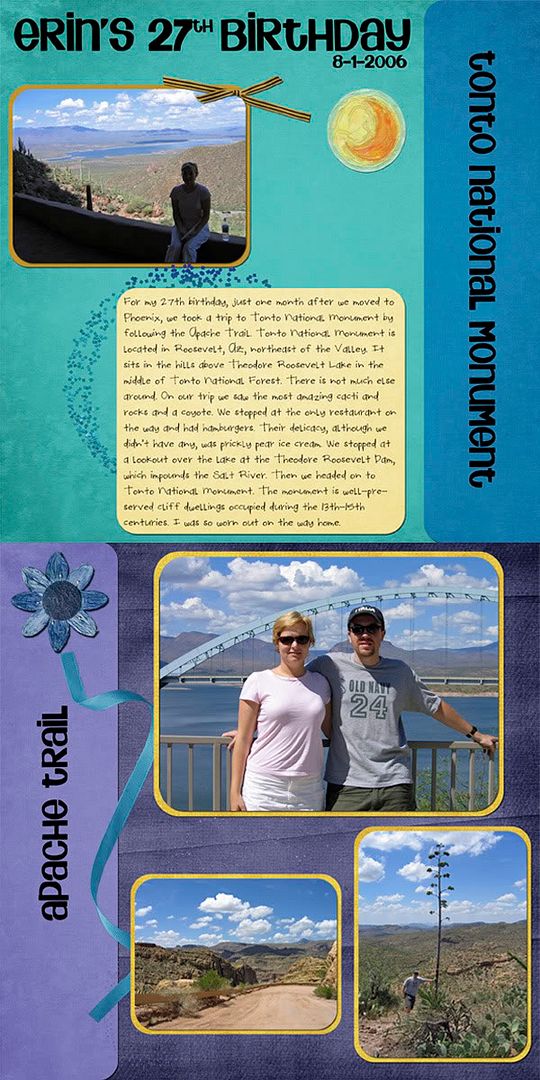 CREDITS: "Ode to a Starry Night" by Dylabel Designs; journaling font: Round Birdie by AudNeil



Yes, I know the first picture is really dark, but it's the only picture we actually took at Tonto National Monument. And of course, it's of me resting because it was a HOT day (remember, August in the Phoenix area!) and a steep walk up to the cliffs.
Finally, since I made the word art, I wanted to share it with you on my blog, as well. Click to download.