I stayed in tonight so I could scrap a layout for
Digi Dare 165
. The directions were to scrap about your accomplishments, or what you wished you had accomplished, in 2009. We had to journal about that. We also had to make a big 2009, use two different alphas, and add two curly ribbons. Layout below.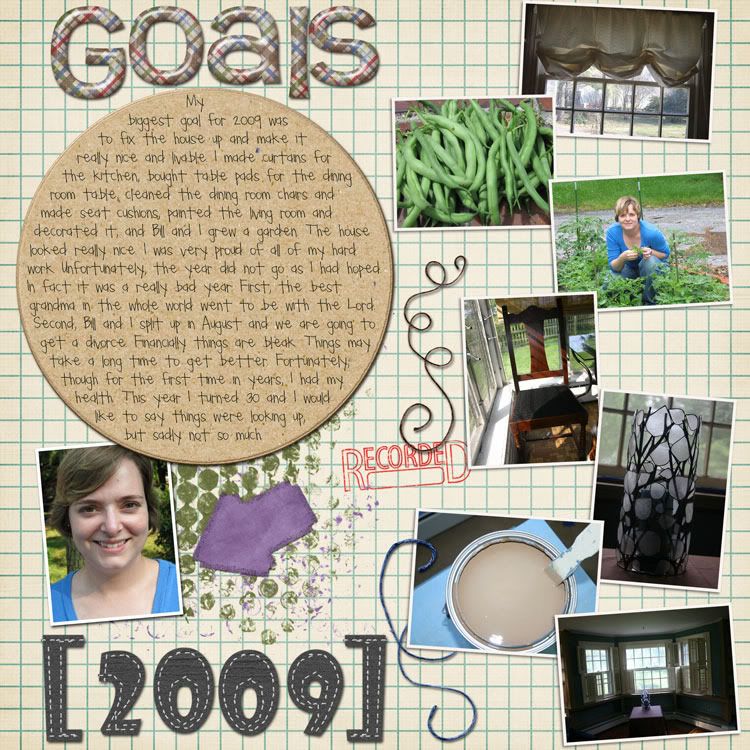 Digital Template (photo layout): "365 SYTYCD" by Wild Dandelions; Alphas: "Alpha 04" by Deca Designs, and "Roughin' It" by SuzyQ Scraps; Circular Text Path: "Project 365 Essentials V.1" by [wm]squared; Recorded stamp & Circle Mat: "The Weekly Record" by Emily Powers; Background Paper: "365 SYTYCD" by Wild Dandelions; Everything Else: "Roughin' It" by SuzyQ Scraps
Journaling Reads:
My biggest goal for 2009 was to fix the house up and make it really nice and livable. I made curtains for the kitchen, bought table pads for the dining room table, cleaned the dining room chairs and made seat cushions, painted the living room and decorated it, and Bill and I grew a garden. The house looked really nice. I was very proud of all of my hard work. Unfortunately, the year did not go as I had hoped. In fact it was a really bad year. First, the best grandma in the whole world went to be with the Lord. Second, Bill and I split up in August and we are going to get a divorce. Financially things are bleak. Things may take a long time to get better. Fortunately, though for the first time in years, I had my health. This year I turned 30 and I would like to say things were looking up, but sadly not so much.